Archives
Madison American Legion, Auxiliary name Boys, Girls State delegates
Honorees include Paul Kaplan, Mariah Langton, Jasmine Moody.
Madison American Legion and Auxiliary 39 recently recognized the Dirigo Boys and Girls State delegates from Carrabec and Madison Area Memorial high schools.
These delegates, who attended Boys and Girls State session last June.received a certificate. The delegates spoke to the members of American Legion Tardiff-Belanger Post 39 of their experiences while attending the session.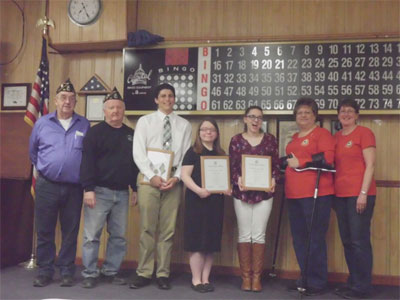 AMERICAN LEGION TARDIFF-BELANGER POST & Unit #39 - MADISON DONATES TO SPECIAL OLYMPICS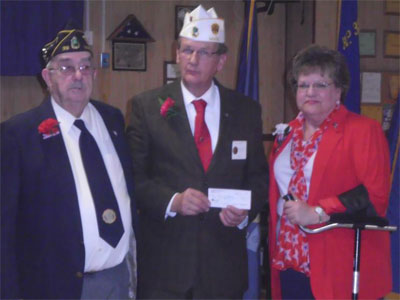 Pictured above from left to right: H. Ralph Withee, Commander of Post 39, Paul L'Heureux, State Adjutant and Robin Turek, President of American Legion Auxiliary Unit 39
"Still Serving America" is the motto of The American Legion. Veteran's who continue their service to America by still serving their communities. Veterans whose involvement in the community creates and supports the feeling of camaraderie which makes The American Legion the nation's largest and the most respected organization of wartime veterans. It's a program which can have a positive influence in the lives of you and your family. It's a program of promise!
American Legion Tardiff-Belanger Post 39 continues to show that by donating (in conjunction with the American Legion Auxiliary Tardiff-Belanger Unit 39) to Special Olympics. At their Installation of Officers on April 1st, the Post presented American Legion State Adjutant, Paul L'Heureux with our 31ST consecutive annual donation of $1000 to the program!
To learn more about the American Legion and/or the American Legion Auxiliary's mission - or to volunteer, donate or join, visit www.mainelegion.org or www.alaforveterans.org. You can always feel free to stop in at the Post for further information located at 20 S. Maple Street, Madison, ME.
Check out the article on the American Legion Auxiliary on page 3 in this publication: www.turnerpublishing.net.